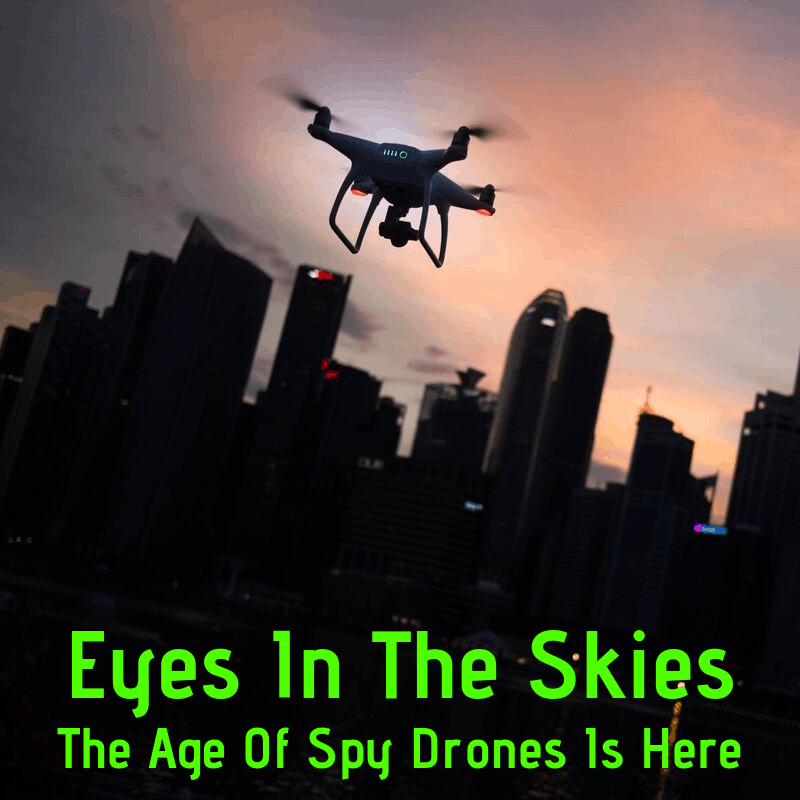 In the good old days of the Cold War when governments wanted to get some espionage done before the weekend, they'd use billion-dollar spy satellites.
Sophisticated orbital peeping Toms that have such great eyesight they can see fine details of ground-based installations. This is one of the reasons that world governments do stuff they don't want anyone to know about underground.
The thing is, spy satellites really only provide a top-down view. So you still have to use more conventional means if you want to stick your nose into business requiring an up-close and personal perspective.
Now, thanks to drone technology it's becoming easier for Big Brother to see into places never possible before.
What Exactly Is A "Spy" Drone?
Of course, the term "spy drone" is thrown around a lot. So what are we actually talking about when we use the term?
Obviously any camera drone can be used for the act of spying. Even if it's only to be a creep and snag some bathing suit shots of your hot neighbor. That doesn't mean that it's a spy drone just because you happen to do some spying with it.
In general, I'd say spy drones include those flying, unmanned devices designed to gather information while at the same time avoiding detection. Usually the best drones with cameras are made and used by the government, but private organizations are getting in on the action too.
Mini Drones: The Weapon Of The Future
To Catch A Predator
While there have always been atmospheric spy machines, mainly spy planes like the Lockheed U2, the idea of unmanned surveillance flight systems probably entered public imagination with the infamous Predator Drone.
The General Atomics MQ-1 Predator was initially used as a forward observation craft. Packed with high-power optics and sensors this drone flew high enough not to be seen or heard and provided troops with critical information about enemy positions and equipment.
Of course, people only really started to carry the name of the Predator on their lips when the US had the bright idea to attach Hellfire missiles to the Predator. Now it didn't just spy on enemy targets, but also take them out.
Nonetheless, the Predator revolutionized the way governments looked at surveillance systems long before the public even cared about drones in military service. It could travel hundreds of miles, watch a target for more than half a day and then fly back home to refuel. Without putting any living pilot in harm's way.
Still, the Predator is a dinosaur compared to modern drone technology. Which is smaller and smarter than ever before. The cutting edge of drone spy systems may actually lie in the palm of a hand.
Bug Or Bug?
It's been coming for a while. Tiny, sophisticated drones that can infiltrate buildings, hover outside a window or follow a target through intricate terrain. If you look at the advances consumer camera drones have made in the last decade, that shouldn't sound far fetched.
High-end consumer camera drones like the latest Inspire from DJI have amazing, machine-learning powered software and hardware which imbues them with incredibly abilities.
These drones can navigate obstacles, recognize objects, track them and return back home with no help from an operator. This is from a device that costs less that $2000, so you can imagine what's possible when we bring military-sized budgets into play.
All the way back in the year 2008, the US military gave BAE systems a $38m contract to develop micro spy drones, including ones that fly. In 2013 we read about researchers creating tiny drones that could stick to surfaces to conserve battery power. They would attach to a spot, finish all the spying and then fly off again to where it needs to be.
The latest concept, one which excites the military, makes use of swarm science. Using sophisticated algorithms, groups of drones can work together. Sharing information and quickly building detailed models of an environment. The next big thing seems like it's going to be absolutely tiny.
Learn More About Spy Drone Technology
Tiny Spies Enter Service In The Age Of Spy Drones
Despite all the talk about tiny spy drones and how they may change everything, in practice no one has really used them in operations yet. That is, until now.
In mid-2018 the US army bought a new type of drone known as the Black Hornet. It's not a quadcopter, but an autonomous helicopter.
Made by FLIR, the Black Hornet is touted as the world's smallest combat-tested drone. The specific model that's going in to service is already a third-generation device.
This drone is meant to extend the situational awareness of squads—part of an overall drive to provide foot soldiers with a sensor suite and next-generation information systems.
The Hornet only weighs 32 grams. It can operate without GPS coverage, using advanced image processing to figure out what it's looking at. With a 2 km range and 21 kph top speed, it's like something from a science fiction film.
The Future Of The Spy Drone
The future of spy drones is going to be a wild one. It's hard to imagine things getting any more advanced than they already are, but two areas still have plenty of room to get better: intelligence and maneuverability.
As AI and computing hardware improves, we're going to see drones that can make decisions that are impossible right now, without a human operator who knows how to fly a quadcopter. Imagine releasing a swarm of drones into a building that can combine their smarts into one swarm intelligence.
Imagine cloud-based data processing that can categorize and analyze whatever cameras capture in seconds. Imagine fast, agile and transforming drones that can get in almost anywhere.
Whether through air, land or water, future governments are going to have plenty of options. These drones are going to interface with everything from foot soldier systems to war machines armed with heavy weaponry.
Of course, we are also seeing the rise of anti-drone technology. From lasers that shoot down drones directly to devices used for jamming drone frequencies to electronics warfare systems that disrupt swarms or confuse image sensors. It's going to be one hell of a ride.
The age of spy drones is here. And the prices have come down a lot. You can get good drones with cameras for less than $300.
The Age Of Spy Drones: Your Thoughts
Leave a comment below and let us know what you think about spy drones. Also be sure to give this article a share on Facebook, Twitter, or Pinterest.

Latest posts by Zeke Daniels
(see all)