There's something you need to ask yourself first.
Spying on someone's phone is a serious invasion of privacy.
Not to mention illegal, if done without consent (which it obviously is, and at this point we have to point out that we absolutely do not condone any illegal behavior and ask you to refrain from breaking any laws).
Legal or not, there is no question that it is an invasion of privacy. So make sure that you're ok with that, before proceeding.
If you are, keep reading to learn how to spy on an Android phone without installing software. And because your options without software are limited, we also recommend a few low-cost apps that do the trick.
How To Spy On Android Phone Without Installing Software
We'll begin with a few different things you can try to spy on someone's phone without having to install anything. As you'll see, these options all have their limitations.
For that reason, we'll also briefly mention a few good spy apps, in case you need to gather more information than you can get from these first few methods.
Use The Android Device Manager
If you access the Android Device Manager, you'll be able to locate the phone, make it ring, delete its data, and even lock it.
This Manager, which is sometimes called "Find my device" is installed on every Android device, so the person's phone already has it. That's a bonus.
To use it, you'll have to ensure that your target's phone is connected to the internet. Now, here's where the tricky part comes in.
You'll need to access the Manager by using the person's private Google Account login information. Obviously, getting that info could be difficult, depending on your relationship with the person on whom you're trying to spy.
If you you manage to get the info, once you log into the account the display screen will show you a map that indicates the phone's location.
You will also see other options come u. For example, you can make the the phone ring or you can lock it.
Use The Google Timeline
One thing is clear. Or it needs to be.
If you want to spy on someone's android phone without installing software, there is no easy way around the issue.
You're going to need their personal login information. This means you have to be comfortable with invading the person's privacy. And this should go without saying, but that can land you in trouble.
If you're okay with it, and you want to spy on the person's location history, you'll be able to do this by using the Google Timeline feature.
Once again, it is linked to the Google account. Just like with the Device Manager tips from above, you need to ensure the Android device is connected to the internet and you'll need the person's Google Account information so you can get into their account.
Once you're in, you will need to open Google Maps. Click "menu" and then choose "your timeline." A timeline of where the person has recently been will be displayed.
Can You Gain More Info Without Installing An App?
The sad truth is that the type of info you'll be able to access by hacking into the person's account is limited.
As we've already seen in this article, you can track the person's location to see what places they've recently visited, you can manipulate their phone (like making it ring), and you can delete data from the phone. But that's really all you have at your disposal.
You might have seen that some websites claim there are certain apps that you don't have to install on the target device in order for them to track it.
Sadly, these are fake.
As Tech Times reports, in order to spy on an Android phone, you will have to install a spy app – there's no way around this.
The best you can do is install a spy app on the Android phone. Good spy apps are not easily detectable, so your target won't likely discover what you're up to.
But there's always still some risk that it will be found. There's also the issue of having to pay a subscription for these apps. This means a monthly charge on your credit card, or whichever payment method you choose.
Best Apps For Spying On Android Phones
Okay, so maybe you really want to be able to access more content on your target's phone. In that case, you're going to have to install an app on the target phone.
You'll have to find a creative way to get ahold of their phone.
If it's someone you know, you could help them with some setting on the phone or something and installing a spy app in the process, when they're not looking.
Or you could simply ask to borrow the phone of the person you want to track, and then installing the app. Or grab it when they leave it lying around.
However you get access, once you have it, you can install one of the following apps.
While there is some very expensive tracking software out there, the ones below are all low-cost spy apps that you can use on Android phones.
Cocospy
This is a popular spy app that allows you to monitor incoming and outgoing calls on the device, as well as review the call history and how regularly those calls are occurring.
You can also track websites the person visits, track their locations and messages, and check out their photos. You can even monitor their to-do lists.
Cocospy costs $49.99 per month. This gives you access to tons of content, including the person's social media accounts.
Spyine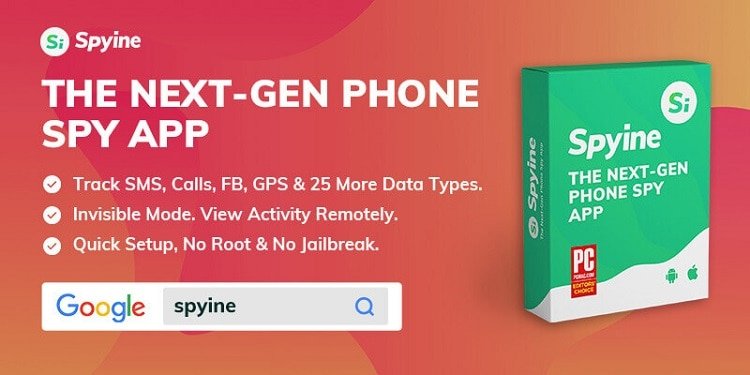 This app enables you to track your target's conversations on WhatsApp. You will also gain access to a variety of content, such as media, other messages, and more.
You will even be able to track the person's movements. Remote access is easy – you'll be able to view everything from your web browser.
A one-month premium license costs $59.99. This gives you access to call logs, app lists, photos, social media accounts, contacts, text messages, and more.
Important Things To Keep In Mind
If you want to know what someone is up to on their phone, it's not going to be easy. There is always some risk. Here are some hard truths you need to be aware of.
You Will Need To Buy And Install A Spy App
If you want to gain even a decent level of access to someone's Android phone, you're going to need to purchase an app to help you do this. This app will have to be installed on the person's phone.
Downloading And Installing Takes Time
Depending on how fast their internet connection is, you'll need at least a few minutes alone with the phone for the app to to download and install. It's not always easy to get access to someone's phone for that long without them becoming suspicious.
Discovery Is Always A Possibility
No matter how well concealed the app is on the device, there is always a chance that the owner of the phone will be able to detect it. Here are some ways in which they could do that.
Data Charges
They could notice a higher data usage. A tracking app might use data, if it's doing something like monitoring the person's live location via GPS. Seeing these extra data charges could alert your target that something is going on.
Battery Life
They could see that the phone's battery is being drained at a faster rate than it used to. If they investigate, they may discover the hidden app.
Screen Light
They might see that their phone's screen lights up even when it's idle. This is a red flag that an app is busy doing something in the background.
Warm Phone
They might notice that the phone feels hotter than usual. If the battery of the phone feels warm, this could indicate that some apps on the device is working hard. Gathering information from the phone and sending it to a remote place does cause the battery to work hard.
Tech Savviness
Many people are tech savvy and will be able to locate hidden apps on their phone. Even if they're not, there are many online tutorials that help people locate those apps.
For example, a common recommendation for Android users is that they access their phone's settings, click on "Apps and notifications" and select "see all apps."
This will bring up a list of all the apps that are installed on the device. Hidden spy apps might have words in their name like "monitor" or "spy" and these could easily be detected and deleted by the device owner.
Related Questions
What is rooting?
Rooting is when you get full access to the cell phone. This will enable you to change information on the phone, delete files, and control the phone's operating system. Rooting is the Android version of jailbreaking.
Are spy apps illegal?
It is illegal to use a spy app on someone's phone. They need to give you their consent before you do it.
Conclusion
You might feel you have a good reason to spy on someone's android phone. Perhaps you need to get ahold of some important information, or you want to protect the person in question without them knowing, for example by tracking your daughter's phone.
But, as we can see in this article, it's not always easy to do. Even if you do manage to get some access to your target's phone, the information you will be able to get your hands on might not be that extensive, unless you are willing to make use of spy apps.

Latest posts by Bobby Miller
(see all)