We've all seen night vision goggles illuminate a pitch black landscape in movies and TV shows.
But do night vision goggles work in complete darkness in real life?
Or is that just another Hollywood exaggeration.
While this seems like a question with a straightforward yes or no answer, it is anything but.
In fact, the true answer is both yes and no.
That's because there are two types of night vision technology: infrared night vision, which produces those green images you've seen in movies, and thermal imaging night vision.
And only one of these technologies works in complete darkness. Keep reading to learn which one and how both of them work to see in low-light situations.
Do Night Vision Goggles Work In Complete Darkness?
The type of night vision goggles most people picture when they hear the phrase are not able to see in complete darkness. But the other type of night vision CAN create an image even if there is no available light.
Before we can fully answer why one type of night vision goggles works in complete darkness and the other does not, we need to first explain how both types of night vision devices work.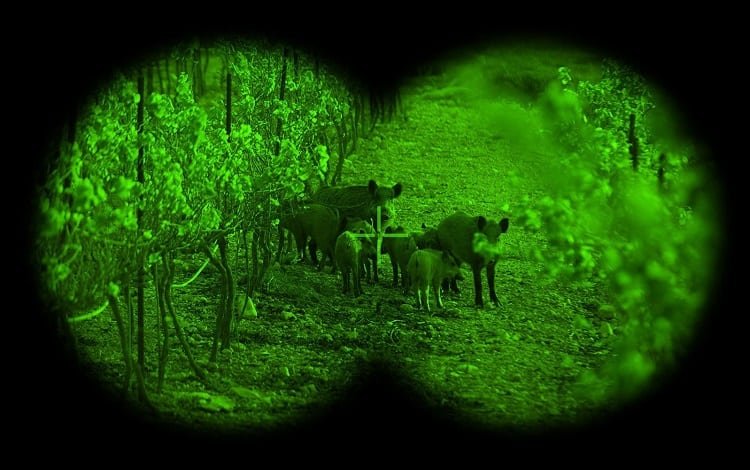 As mentioned, the two types of night vision devices are infrared and thermal night vision goggles.
Some people use the terms night vision devices and thermal image devices interchangeably, but they're quite different.
To find out more, and see which one you should purchase if you want to see in complete darkness, let's examine both of these devices in greater detail.
How Infrared Night Vision Goggles Work
These require some light to illuminate what you are looking at. That means they only work in low light conditions. They do not work well in complete darkness (or when it's really bright outside).
If there's no light source nearby, the goggles are not able to produce an image all all. And if it's too bright, the excess light can damage the goggles irreparably.
This type of night vision technology makes use of green light waves, which are easier for the eye to see. That's why the night vision images you typically see are always green.
How Thermal Night Vision Goggles Work
Thermal imaging goggles produce electronic images based on temperature differences. They make use of infrared technology to measure the relative heat of objects compared to surrounding objects.
These heat signatures are then transferred into an image where the areas with higher heat signatures are brighter and easier to see than the ones that are cooler. You've probably seen those colorful images in movies.
Since these goggles make use of heat and temperature detection instead of light, the images you view through thermal night vision goggles aren't as clear as those you see through infrared goggles. But thermal night vision will work in complete darkness.
If you need to night vision goggles that enable you to see when it's pitch black, these are the ones you need.
Why Thermal Imaging Devices Help You See Better In Complete Darkness
As mentioned, if you need to see in complete darkness, you need a thermal imaging device, instead of standard infrared night vision goggles.
That's because infrared night vision goggles require some light in their surroundings in order to work properly, even if it's just a bit of glow from nearby stars. Thermal devices don't need any light to function.
But that's not the only advantage.
Regular night vision goggles can be impaired by a variety of environmental conditions, like smoke, cloudy skies, rain, and even dust. Any of these can hamper their performance.
None of these affect a thermal imaging device.
What About Image Clarity In Thermal Images?
If you're thinking thermal devices sound better by far, because they work better in complete darkness and they are not effected by environmental hindrances, remember what we mentioned above.
We noted that images you see through these goggles are not as clear as those seen through standard infrared vision goggles.
This is because they build an image from the heat differences between the various objects in that image, instead of constructing the image using light that reflects off surfaces.
With a lack of light, your images will lack details and shadows. It will also show trace heat signatures.
For example, if you're looking at someone through a thermal imaging device and they touch a surface, you'll see their handprint on the surface for a while afterwards. This can take some getting used to.
Pros And Cons Of Night Vision Vs. Thermal Imaging
There are other pros and cons to keep in mind when it comes to these devices, apart from the way they work in darkness.
Night Vision Goggles
Pros
Images are clearer when viewed through night vision goggles
These devices are cheaper than thermal devices
They offer a wider field of view
Cons
They don't work at all in bright conditions
They are easily obscured by various environmental conditions
Thermal Imaging Devices
Pros
Work during the day or night
Can see through fog, smoke, and sand without a problem
Can track residual heat, such as handprints
Cons
Thermal imaging devices are more expensive than night vision goggles
They tend to be larger and heavier than night vision goggles
You need to have experience when using them because they can be difficult to understand
Related Questions
How much do night vision goggles cost?
Night vision tech is expensive. It's not easy to find high-quality night vision goggles that cost less than $500. If you want quality and good performance, you'll have to be prepared to pay $1,000 or more for them. Our article on the top night vision goggles has more.
Can you see through grass with thermal imaging devices?
Thermal imaging helps you to detect animals behind grass and even in bushes, which makes it valuable for hunting.
Are There Night Vision Phone Apps?
There are night vision apps that work on your smartphone, but they do not offer true night vision. They don't all work the same, but most either use the phone flash in some way to brighten up a dark area, or they have tools to help low-light photography, like long exposure or high ISO settings.
Night Vision In Complete Darkness: Conclusion
If you're bought an expensive pair of night vision goggles, you might have felt disappointed to learn that they don't work in complete darkness. You didn't get ripped off. None of them work in the absence of any light.
If you bought a cheaper pair, they probably don't work at all. Good night vision is expensive. The best binoculars with night vision and the best monocular featuring night vision tech cost hundreds of dollars. Ones that don't do not use true night vision technology.
If you need something that can help you see in total darkness, you need a thermal imaging device. These are more expensive and more bulky, and the images they produce are lower quality, but they will give you an image even when there is no light present.

Latest posts by Bobby Miller
(see all)