Are you looking for a pair of binoculars that works both at night and during the day? Keep reading to find out more about these ones from Cassini.
Review of the Cassini DayNight Binoculars
Have you been in a concert where you didn't even have a glimpse of the performer? Isn't it frustrating that all you did was be contented hearing the music because your seat is so far from the stage?
Here's the good news. You don't need to spend more to buy for a more expensive ticket and seat in front.
12x Magnification
With the Cassini DayNight Binoculars, feel like you're just next to your favorite singer as he or she sings your favorite song. These binoculars can magnify people and things 12 times closer to you.
"This product has performed as expected. The images are clear in both day mode and green laser light mode. For the price, it's an excellent value."
Yes! Even if you are at the backseat, you can enjoy the show just as how the people in front are having fun.  These binoculars produce a green-colored wide-angle laser for perfect viewing.
Coated Lenses are Scratch Resistant
Truly a practical choice, these optical devices have lenses with multilayered coating. This means they are safe from any falling objects while in use. The binoculars come with a carrying case so you can easily bring them anytime, anywhere.
"These were a hit with my family! We take them on most of our trips and all take a turn using them. The kids loving playing with the night vision feature. It's super easy to turn on with the touch of a button. We look for animals in the forest at night. Pretty cool!"
Where to Buy Them?
The Cassini DayNight Binoculars are available on Amazon:

Compare Night Vision Binoculars
Check out the chart below, or take a look at our Best Night Vision Binoculars article.
Key Features of the Cassini DayNight Binoculars:
Comes with a carrying case for convenient travel
Produces green laser for night vision with the push of a button
Multi-layered coating for protection
With neck strap for ease of use
Magnifies objects 12x closer
Wide-ranged view of up to 294 feet
With limited warranty
Excellent value for the price for a night vision binocular.
What People are Saying about these Night Vision Binoculars
"Not bad, and they do certainly work at night. I found them not that easy to use during the day though. I think I'd prefer separate binoculars for each of these functions."
"For the price, I found that they work well enough. They're cheaper than many of the other binoculars that are night-vision enabled."
—>See More Customer Ratings and Reviews<—
Cassini Day/Night Binoculars Review
Looking for Other Night Vision Devices?

If you're looking for something that allows you to see at night, you've come to the right place! One kind of product are binoculars, like the device that we're reviewing here. These are usually at the cheaper end of products.
If you're looking for a higher quality device, consider goggles or monoculars. Check out our top picks here: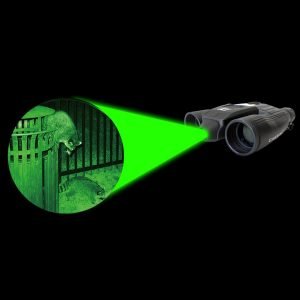 How Does Night Vision Work?
There are two basic ways how night vision works. We'll give you a very quick summary, or you can check out this article: How Does Night Vision Work? 
#1: Image Enhancement
It's made possible by collecting small amounts of light, including Infrared's (IR) lower spectrum.
#2: Thermal Imaging
This technology captures Infrared's upper spectrum. It's produced by heat, instead of just reflecting the light.

Check out the video below for more information:
The Cassini DayNight Binoculars Cons:
Lithium battery required
Warranty is limited
With tripod socket but tripod not included
The Takeaway on the Cassini DayNight Binoculars:
After all the disappointments during the concert, don't you just love to make it up the next time? You deserve another me-time without having to buy an expensive ticket!
Comfortable and Convenient to Use
These optical lenses offer total comfort and convenience while you use them. When there are no exciting actions onstage, simply let the binoculars hanging on your neck through the neck strap that comes with the package.
Bring them camping with you for extra fun with the kids. Seriously, everyone will want a turn trying these things out.
Perfect for Lots of Activities
Concert is not the only event where you can bring the Cassini DayNight Binoculars. You can use them in any kind of activity, day and night. You read it right. These binoculars produce the same bright and clear vision at night. Simply locate the button and press it for the activation of the green laser.
Night Vision Capabilities
This green light will illuminate objects and people no matter how dark they are from afar. Impressively, these optical devices work excellently by providing a wide viewing range of up to 1,000 yards or about 294 feet.
Shop Now
Hit the button below and be led to the Amazon page to buy the Cassini DayNight Binoculars:

Cassini Binoculars with Night Vision: Have your Say!
What do you think about these day/night binoculars from Cassini? Leave a comment below and share your thoughts with us.

Blair Sanfield is a former member of the US Army and now specializes in all things night vision: goggles, binoculars and monoculars. He first became interested in this equipment during his time in the military and he now is a consultant for various government agencies and companies.

Latest posts by Blair Sanfield (see all)
Last update on 2019-08-21 / Affiliate links / Images from Amazon Product Advertising API