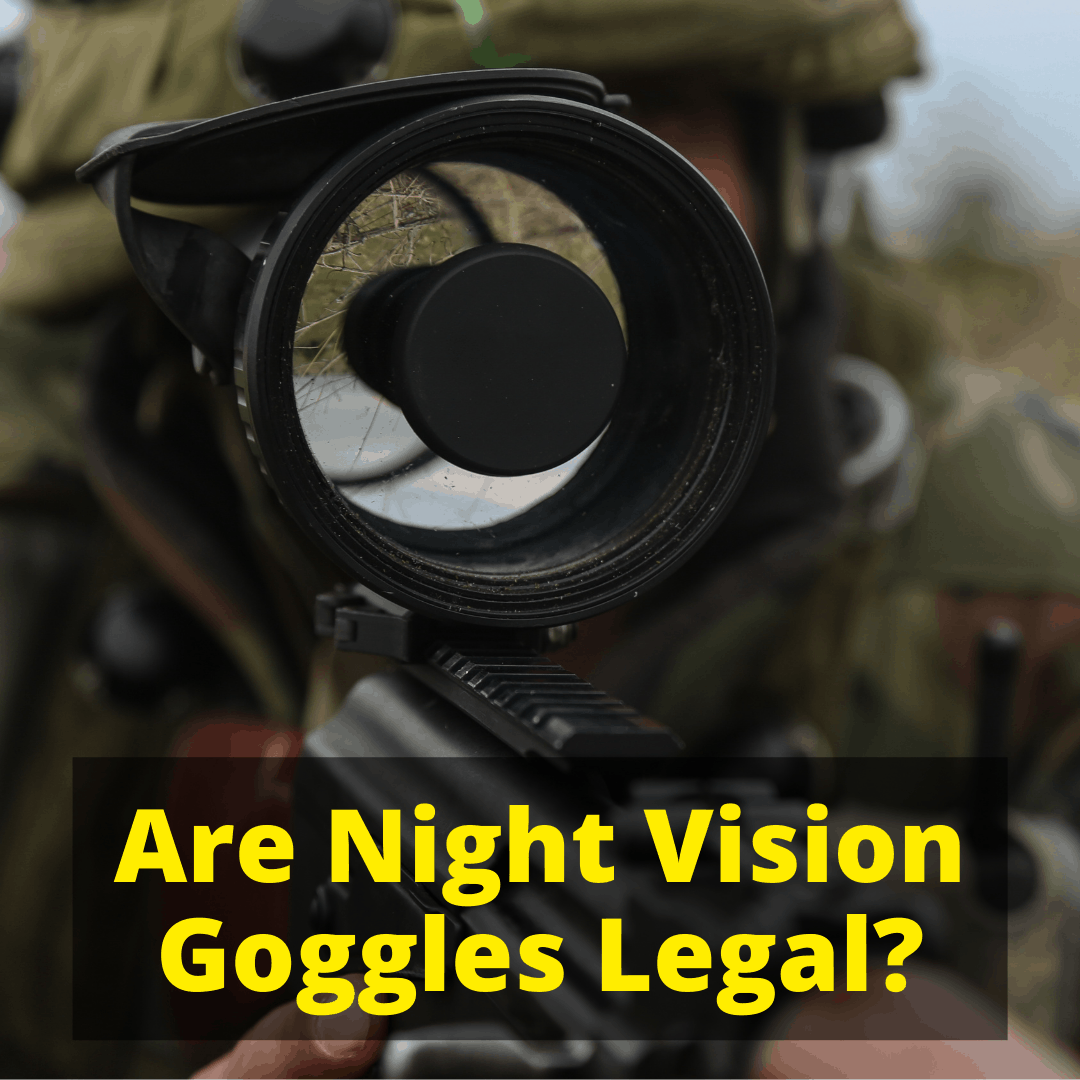 Have you tried to buy a pair of night vision goggles yet?
If so, you've probably noticed how difficult they are to find.
The military and law enforcement have such a large need for these devices, that there are not enough of them for us regular folks.
Many turn to the black market.
That is obviously illegal, but what about regular stores? Are night vision goggles legal to purchase from a place like Walmart or Amazon?
We'll answer that question and also take a look at any other regulations that apply to the sale, purchase, ownership and use of night vision technology.
Are Night Vision Goggles Legal?
The good news is that there are no government restrictions for civilians when it comes to owning night vision goggles or even thermal imaging devices.
You can legally own night vision and thermal devices in the United States. However, California (of course) does have some regulations when it comes to sniper scopes for hunting.
That said, the way you use the night vision goggles is important, because, because you might be breaking the law if you engage in certain activities that are not allowed.
Let's take a look at rules and regulations related to night vision goggles so you don't accidentally break the law and find yourself in trouble.
Regulations Governing Ownership Of Night Vision Goggles
If you own night vision goggles, you need to be aware of the following regulations.
You can't export night vision goggles unless you have approval from the U.S. State Department.
If you ignore this and export them without approval, you will end up in a U.S. federal penitentiary! Most importantly, you won't be able to say that you didn't know about this rule because that won't fly (pun intended).
The reason this rule is in place is because night vision goggles are regarded as sensitive items. Their distribution is regulated very carefully.
You can't travel with your night goggles
Maybe you were hoping to use your night vision goggles during your upcoming safari in Africa. You're unfortunately not going to be able to take them with you on your travels.
For similar reasons as the previous regulation, you can never take your night vision goggles outside of the country. And this restriction isn't limited to plane travel. You can't take them across the border in your car, in a train, or via any other mode of transport.
If you're caught doing this, you'll be in direct violation of the International Traffic in Arms Regulations (ITAR) and you will find yourself in a federal penitentiary. This is the case for civilians and law enforcement personnel alike.
You can't allow a non-U.S. citizen to look through Gen3 night vision goggles
While this might sound strange and unfair, as mentioned, night vision devices are covered under the International Traffic in Arms Regulations (ITAR).
ITAR is focused on not letting them enter the hands of any potential enemies. Non U.S.-citizens are also not allowed to gain access to any night vision goggle documentation, for example user manuals.
Why Are These Laws In Place?
While the above rules and regulations might seem a bit too extreme, it's important to realize that night vision goggles are used by law enforcement personnel and members of the military.
They are not devices to be taken lightly because they're used by people on the frontlines of war, so that the American people can remain safe. This is why it's so important for civilians to be careful with these devices and commit to using them responsibly.
What are Gen3 Night Vision Goggles?
There are three generations of night vision goggles. While the first two are good, Gen3 goggles offer the brightest and clearest images with the best resolution. They have the best performance when it comes to low-light conditions.
Because they're the top of the line, Gen3 night vision goggles are usually reserved for law enforcement and military activities. They also have a very high price tag.
If They're Legal, Why Can't You Find Night Vision Goggles?
Although there are no legal restrictions against purchasing and owning night vision goggles, there are some restrictions when it comes to their supply.
You might find that you can't get the night vision goggles you wanted from a certain retail store. But that's not because the stores are not allowed to sell the goggles to the general public.
It's because retail stores and websites selling night vision goggles sometimes need to put restrictions in place. These restrictions are dictated to them by manufacturers, based on their company policies.
Generally, these restrictions on the products are a result of huge demand from the U.S. Department of Defense, which means that there aren't enough products to supply the general public.
Basically, we get the leftovers and there just aren't enough leftovers to go around.
Related Questions
Why are night vision goggles green?
You might wonder why the images you see through night vision goggles aren't black and white. Night vision is green because our eyes are more sensitive to green light. Green is also easier to look at for long periods of time.
Can you purchase night vision goggles from Walmart?
You can find various night vision goggles at Walmart. You can also purchase them from online only stores like Amazon. We have an article covering the best night vision goggles you can buy online.
Can I get night vision on my phone?
There are phone apps for night vision, but they don't actually have anything to do with true night vision technology. There are primarily tools to help with low-light photography, or to help you see better in the dark.
Legality Of Night Vision Goggles: Conclusion
It might seem like night vision goggles are restricted to the military or law enforcement, but as a civilian you are allowed to purchase them. But they can be hard to find and there are several restrictions on their ownership and use.
You can use night vision goggles for a variety of activities, like hunting or viewing animals at night. But using them internationally, in any capacity, is severely restricted.

Latest posts by Bobby Miller
(see all)