Where to Put Fake Security Cameras
Did you just buy a fake security camera but you don't know where to place it? First, it is best to know if what you purchased is for indoor or outdoor use, or for both. Surely, your reason for buying a security device even if it's a fake is your family's safety and protection. Maybe you did not consider opting for the real security device due to budget constraint. It's okay to consider the dummy as long as you're choosing the authentic-looking one. It is important too, that you are positioning the device in a place where people, especially the strangers will easily see it.
The right places where to put the fake security cameras are important. If you install your dummy security device exactly where it should be, you are most likely to convince everyone that your entire place is well-secured. You don't actually need an expensive home security system if your fake security cameras appearance and placement are convincing.
Don't worry if you already have that fake camera and you still don't know where to place it. It's not yet too late to look for the perfect spots at home. We're here to give you tips where to put fake security cameras inside and outside your house.
Keep reading for all the details about where to put fake security cameras!
Compare Fake Security Cameras
The Best Locations for Fake Security Cameras
According to the SafeSoundFamily website, these locations are the most possible areas in your place where burglars are likely to break in.
At the entrance. More than 30% of the intruders enter a house using the front door. To stop the robber from possibly destroying your fake camera, install it at the second floor. If you have a bungalow-type of house, try to enclose your front door device using mesh wiring to cover it from any kind of weapon.
At your back door. According to study, more than 22% of home thieves enter the house using the back door. Again, if you place your dummy security device here, burglars are more likely to think it will be dangerous for them to come near and get in.
By the window (facing the streets or road). This reduces the burglars' chance of jumping in to enter your place. They will be scared to see a lighting device especially at night, coming from your window.
In the backyard. It is usually here where the costly garden equipment and other valuables are place. If you install the camera here, robbers will find it difficult to enter.
The basement stairs. Since they lead to the main part of your home, this will prevent the burglars from further entering your place.
Another consideration is that you should place them away from the elements. Of course, rain or snow won't damage a fake security camera, but nobody would put an expensive security camera in such a position! This will be an obvious giveaway to burglars. We hope you now know where to put fake security cameras!
Our Top Pick for Home Protection: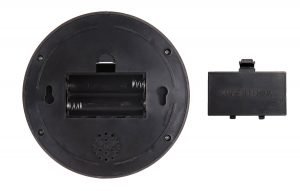 For those who have yet to purchase a set of fake security cameras, we highly recommend the 4 Pack Dummy Fake Security CCTV Dome Camera. This product may include just four dummy cameras but at least, they can cover majority of the best locations we just mentioned.
You can get it from Amazon for a very reasonable price Aside from its affordable price, this fake security device is highly rated online. Definitely, this best-selling make-believe home security system is perfect in all the right places at home since it is designed for both indoor and outdoor use.
For more other fake security cameras, you may check out the Spy Cameras Reviewed website.