Hidden Cameras play a vital role in home and personal protection. There are two main kinds of hidden cameras:
Security cameras that are out of sight.
Body worn spy cameras.
We'll talk about these two categories of hidden cameras in turn and give some advice about how to use them appropriately.
#1 Hidden Camera: Security Cameras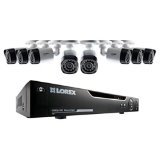 While most people would install security cameras in obvious places to act as a deterrent for criminals, you may have reasons to install security cameras out of sight. You may perhaps want to monitor employees to make sure they are doing the tasks you are paying them to do.
Whatever the case, if you're looking for top quality security cameras, then you'll need to consider Lorex Home or Office Security Solutions. Easy to install, clear video and some solid customer service make Lorex Security Systems a solid pick.
#2 Hidden Cameras: Nanny Cams
The next kind of hidden camera that we're going to talk about are nanny cams. When you're paying someone to look after your children, you probably want to ensure that they're being cared for adequately.
You might also want to use them to keep an eye on your pets or children when you're out of the house! Remember: use nanny cams only for good and not to invade people's personal privacy.
Check out our Top 5 Nanny Cams article for some solid advice.]
#3 Hidden Cameras: Peephole Door Cameras
We're going to move on from security systems and nanny cams to peephole door cameras. They look like a regular peephole, but they're in fact top-quality video cameras. You can see who is outside your door without the person ever knowing that you're looking. Protect yourself and your home from harm by knowing who you're opening the door to and letting inside!
We've reviewed our top picks in this article: Top 5 Peephole Door Cameras.
#4 Hidden Cameras: Spy Pen
Spy pens are perfect for when you want to record that important business meeting. They record audio clearly and easily so that you can have a record to refer back to if necessary. You never know when you'll need something to refer back to later. However, remember this important rule: use spy pens only for good and not for harm. Okay?
All the details about this popular product here: Spy Pens-How to Use Them.
#5 Hidden Cameras: Hidden Cameras Sunglasses
If you want to get your James Bond on in style, then you'll most definitely need a pair of spy camera glasses or sunglasses. They record video or pictures in surprisingly high quality and are also super easy to use. The best part about them is that they don't look fake, believe it or not. You'd never know that they weren't just a pair of regular sunglasses.
We've given a ton of information about Spy Glasses over in this page: Hidden Spy Camera Glasses.