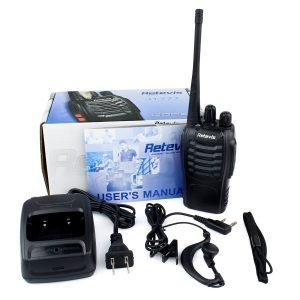 Review of the Retevis Walkie Talkies
The Retevis Walkie Talkies one of the easiest-to-bring devices. They offer satisfaction and convenience when communicating. Each of the units coming with the set has a smooth surface for comfortable use. This handheld radio is for day and night communication. Any individual can rely on these walkie talkies even in a place where it is dark or there's low light. The built-in LED light makes one see things around him and report them to the other line seamlessly.
"These are nice little walkie talkies. They sound great and are powerful."
This product's frequency is adjustable with 16 channels by linking the radios to a laptop or computer through the use of particular software. Additionally, the Retevis Walkie Talkies can reach up to three-mile range. What's best about it is that, these communication gadgets have an emergency alarm feature. It can alert the user when it's time to seek or render help from, and to others.
"These are awesome! I can clearly talk to my daughter from 2 miles of urban development."
An affordable walkie talkie that does what is says it'll do? We LOVE that here at Spy Cameras Reviewed!
The Retevis Walkie Talkies is available on Amazon:

Compare Top-Quality 2-Way Radios
Key Features of the Retevis Walkie Talkies:
Comes in a set of 3 walkie talkies
Supports 16 channels
Reaches up to 3-mile range
Lightweight and compact
Has a power-saving feature
Alarms for emergency alertness
With built-in torch for convenient use in the dark
1-year warranty
30 days money-back
How to Use the Retevis Walkie Talkie 
The Retevis Walkie Talkies Cons:
Requires lithium batteries
Not recommended for those who prefer beyond 3-mile range
Needs to make modifications in frequencies using the computer
The Takeaway on the Retevis Walkie Talkies:
If you are looking for two-way radios that are more than just communication toys, consider the Retevis Walkie Talkies. They offer not just clear communication but security, as well, in times of emergency.
With up to 16 channels to choose from, you can guarantee ease of use in these walkie talkies. Your whole group can create your own channel to avoid disrupting the other groups.  You have all the reasons to choose these communication devices whether for exciting outdoor adventures, or for security purpose.
You might even consider getting them for your kids! What kid doesn't love some real spy gadgets?
First, the Retevis Walkie Talkies are lightweight and compact. This means that you can conveniently carry them anywhere you go without feeling any discomfort.
Second, makers of these gadgets guarantee you total satisfaction with their one-year warranty offer. You also have 30 days to return the radios if not satisfied without giving any reason at all! Yes, you read it right! Within one whole month, you can request for a return including all the accessories.
Third, you can make sure of your privacy as the Retevis Walkie Talkies prevent transmission each time any of their units traces another communication within the same frequency.
These are just three of the many reasons for you to choose the Retevis Walkie Talkies. Go to the Amazon page to see more and eventually decide to purchase the devices: