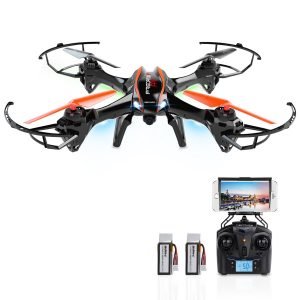 If you're a beginner who's looking for a reasonably priced done with a ton of features, the DbPower UDI u842 Predator should be at the top of your list.
Read our buying guide packed with information to help you decide whether or not it's the right quadcopter for you.
Review of the DBPOWER Predator WiFi FPV RC Drone with HD Camera
One who knows many things about quadcopter drones will agree that this is an expensive hobby. If he searches for the devices online, he'll find that they cost a thousand dollars or even more. But, if you're just a beginner then you certainly won't want to start out with one this expensive.
Very Reasonably Priced
Luckily, there are still a few good drones that cost reasonably like the DBPOWER Predator WiFi FPV RC Drone with HD Camera for one.  A hobbyist doesn't need to spend much with this flying drone. But despite this, he gets all the pleasures of flying any other drone with camera available in the market today.
"The predator is extremely powerful compared to other drones of its size. And when you get the hang of it, it is extremely fun."
Live Video Feed
This feature-filled drone camera has the features any hobbyist expects to experience. It has a real-time high-quality transmission of live video feed from the ground to the mobile phone or tablet.  This flying drone also has a gravity induction that lets the user fly the gadget in any direction he wishes.
Reasonable Quality Camera
For one of the lower-end drones on the market today, this device offers some very decent picture quality. The 720p camera takes some great pictures and videos. Plus, you can connect and upload them in real time to social media.
That said, it doesn't really compare to something like the drones with GoPro cameras.
A Number of Different Functions
He can fly it backward, forward, to the left or to the right. There's no need to worry about interrupted flight too, because there is an extra battery that comes with the pack. Not only that. There is low-voltage indicator too, that alerts the user when it's time to slow down and bring the drone down.
"Wow is how I would describe this DBPOWER Predator RC Drone. It is by far the best drones I have personally seen."
Where Can I Buy It?
The DBPOWER Predator Drone is available on Amazon. You can often get free shipping with Amazon Prime:
Key Features of the DBPOWER Predator Drone:
With WiFi feature for real-time viewing on the user's mobile device
Easy operation for the user to fly in any direction
Comes with an extra battery
Includes a 4GB microSD card for larger memory capacity
Crash-preventive features
Comes with an easy-to-follow user manual
With low power signal-indicator  alerting the user it's time to bring the unit down
Light in weight, but can still fly with a little bit of wind
Nice design that makes it easy for beginners to fly
Compare the Best Drones with Cameras

Or, take a look at our top picks here: Best Drones with Cameras, reviewed.
What Do People Think About It?
—>Read More Customer Reviews and Ratings on Amazon<—
"This drone does a ton of stuff, and far more than you'd expect for something in this price range. Photos, videos, connects through wifi to your phone, 4 GB microSD card, etc. Please note…it's not really a kids toy though and is for adults."
"It's a powerful quadcopter and certainly one of the best in the price range. The photos and videos that come from this are surprisingly good. It's not too big, but not too small and handle flying in some windy conditions, etc. When you're first getting started, make sure you're in a big, wide open area."
"Our family loves playing with this thing when we go to the park. My kids have come in for hard landings more than once and it's help up well. If you're just getting started with flying and don't want to trash a quadcopter than costs a thousand bucks (like the DJI Inspire 2), this is a good beginner one."
What's Included in the Box?
Apart from the drone with camera and remote control, here are the accessories that you'll get with it:
2 LiPo rechargeable batteries
USD battery charger
4 spare propellers
User manual
Take a Fly With the DBPOWER Predator Drone
The DBPOWER Predator WiFi FPV RC Drone with HD Camera Cons:
Not suitable for all ages as only 14 years old and above can operate it
Only 4GB memory capacity is included; for bigger memory, SD card is bought separately
A little difficult to operate at first that proper handling is needed
The Takeaway on the DBPOWER Predator WiFi FPV RC Drone with HD Camera:
Are you one of those who think that drones with camera are expensive? If you are, think again. With the DBPOWER Predator WiFi FPV RC Drone with HD Camera, it is already so possible to own a high-quality camera drone at a very reasonable price.
Easy to Fly with the DbPower UDI u842
You are sure to fly this device easily, safely and enjoyably. Of course, you should follow the instructions in the user manual carefully.
Through the Internet or WiFi connection, you can seamlessly view what's being recorded and captured real time. This quadcopter drone is compatible both with an iOS or Android phone. So, whatever device you intend to pair with this high-quality drone camera, it is perfect.
Anti-Crash Features
You don't have to be an expert to fly the DBPOWER u842 Predator.  You be safe in flying the drone with its anti-crash safeguards. These features help stop accident and destruction to propellers.
Not for Kids
As long as 14 years old and above, you are qualified to operate this high-quality RC drone with camera. The better news is that, you can even extend the flight time because the pack comes with Li-Po batteries which you can charge. And, since this is a lightweight camera drone you can operate it indoors or outdoors.
Where Can I Buy It?
Experience what it takes to fly an aircraft minus the expensive cost. Go to Amazon and purchase the DBPOWER drone today:

If you're tried previous generation drones and found them quite difficult to fly, give this one a try. It's easier than ever to get flying, capture images, and enjoy your new aerial perspective on things.
Have your Say about this Remote Control Drone with Camera Review
What are your thoughts about this popular drone with HD camera? Leave a comment below and let us know what you think.
Also be sure to give this article a share on Facebook, Twitter, or Pinterest.

Zeke is a huge fan of quadcopters and drones and has been flying them for more than a decade now. He loves to stay up to date on the latest technology and new releases. He's passionate about sharing his knowledge with you so that you can find the best drone for your needs.

Latest posts by Zeke Daniels (see all)